Protect your inventory and reduce product damage by using our revolutionary industrial rack tape.
EPT XTRM Ply® Thermoplastic Polyurethane (TPU) Industrial Rack Tape provides reliable protect protection with its exceptional abrasion resistance, a smooth surface, and a low coefficient of friction. Made of durable TPU materials, it is also reinforced for puncture resistance and strength.
Developed to provide trusted protection from damage, and reduce the amount of one-use plastics and packaging, our Industrial Rack Tape offers both easy and safe placement and removal of materials on warehouse racks and shelves, thus protecting products and significantly reducing damage.
Our Rack Tape is highly effective at damage protection – when applied correctly, it is strong enough to allow slip, yet soft enough to not allow damage. It protects those softer surfaces from scratches and damage due to contact with harder surfaces.
Xtrm Ply® Industrial Rack Tape is a dependable and durable solution for limiting excess waste. Manufacturers of easily scratched materials like aluminum extrusions, wrap their products with cardboard for storage in order to prevent scratches; and doors and parts are shipped from tier 1 suppliers in permanent transportable and returnable racks to OEMS for final installation. Cardboard and plastics are continually used and recycled, wasting materials and energy.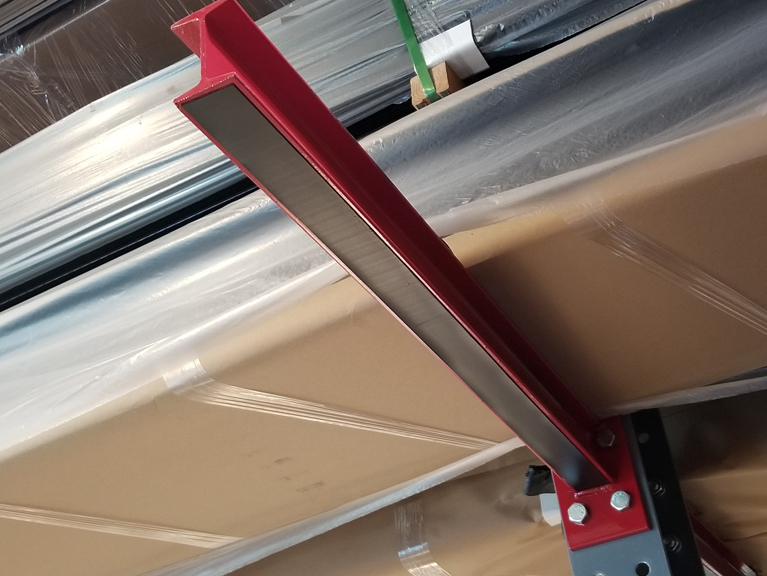 Physical Properties

• ROLL WIDTH & LENGTH: 2" W x 40' L
• THICKNESS: ASTM D751l Minimum Value; 47.0 (+/- 5%) Mils; 1.19 mm
• COEFFICIENT OF FRICTION: ASTM D1894 Static; 1.15+/-0.15
• ABRASION RESISTANCE (H18 WHEEL, 1000G LOAD): ASTM D3884; >20000
• LOW TEMPERATURE FLEXIBILITY: ASTM D2136; -30F
• HIGH TEMPERATURE FLEXIBILITY: ASTM D1204; Cont. 1600/int. 180F
• TEAR STRENGTH (TONGUE TEAR): ASTM D751-B' 125 lbs (MD); 125 lbs. (TD); 556N (MD); 556N (TD)
• BREAKING STRENGTH (GRAB TENSILE): ASTM D751-A; 450 lbs (MD); 450 lbs (TD); 2002N (MD); 2002N (TD)
• PUNCTURE RESISTANCE (SCREW TIP): ASTM D751; 135 lbs; 601N
• WATER VAPOR PERMEABILITY: DIN 53122, Part 1: WDD12
Installation Guidelines
For best adhesion results with XTRM Ply Industrial Rack Tape, the surfaces should be cleaned and dried. Adequate pressure for ensuring a permanent bond with substrates should be applied. Also, ensure the application temperature is sufficient to build adhesion.
CLEAN
Before applying XTRM PLY Rack Tape ensure the substrates are cleaned with a 50:50 mixture of isopropyl alcohol (IPA)* and water. Exceptions to this general rule could be: • Surface with heavy oil residues (this should be cleaned off with a solvent cleaner) • Rough surfaces should be scuffed and smoothed out • Porous surfaces such a fiber boards and woods should be sealed to provide a uniform surface to get adhesion.
PRESSURE
Strong adhesion can be created through adhesive to surface contact. Firm application pressure develops better adhesive contact and enhances adhesion. Good surface adhesion can be achieved by applying enough pressure to ensuring the tape experiences 15 psi, This can be achieved by using a rubber roll and pressing downward as you are rolling over the tape. You might need to repeat this process a few times to do this on harder surface.
TEMPERATURE
The ideal temperature for application is between 45ºF to 90ºF (7ºC to 32ºC). Store at or below room temperature.
Case Study: Window Manufacturer
Window manufacturer's aluminum extrusions would get scratched too easily. They used cardboard on their racks to prevent scratching, but it was not durable and would need to be replaced a on weekly basis. Western Windows turned to RMA for XTRM PLY Industrial Rack Tape. When placed on the their racks, it created durability and reduced the labor needed to replace the cardboard on a regular basis. When Western Windows expanded their warehouse operations they continued to use XTRM PLY Industrial Rack Tape because of its durability, labor savings and reduction in product damage.
For more information on Rack Tape products and their use, email us at info@epttech.com or click here to submit our contact form, or you can purchase right from our online store today.
Call us today at 908-558-0011 for more information on our Rack Tape products.